Saturday, July 17th, 2004 at 1:32 pm
|
1,569 views | trackback url
We decided to finally commit to buying a "real" grill, for our summer cookouts, instead of wishing we had one.
After much reading, we decided to get a Weber Genesis Silver B, from a local dealer. The purchase was flawless, and we got a few free items to boot (free propane fill, free Weber canvas grill cover, and free delivery.. that night). We decided to get one in a box, instead of taking the floor model (which was the only black one left). We ended up with a dark blue unit. I'm not partial, its a grill, after all, not a sports car.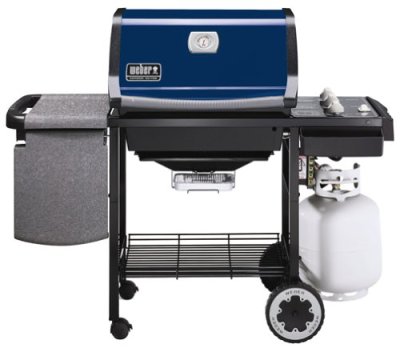 After unboxing the unit and beginning the easy assembly, I noticed something odd..
There were two "condiment baskets", and a missing "right-side trim piece" (where you hang your utensils, which cleans up the open tube ends at the right-side of the grill).
Sigh. After the horror from StorkCraft, I dreaded contacting Weber to let them know the dilemma.
I called their toll-free number and spoke with "Amy", a very helpful operator. I mentioned that we just bought the grill about an hour ago, and found two condiment baskets, and no right-side trim piece. She apologized, and helped me register my grill in a few pain-free moments, and said they'd send out a new piece in a day or two.
I asked her if she wanted the spare condiment basket back, and she said no. Jokingly she said:
"Keep it as a spare"
…and I said:
"Oh yes, because we go through condiment baskets like you can't imagine!"
We both had a laugh, and she shared her favorite recipe with me, and told me to try it.. beer-can chicken!
All in all, painless fixes to the problem at hand. Our first meal on the new grill went perfectly. I can't wait to try some of the more-exotic recipes..
Last Modified: Saturday, July 17th, 2004 @ 13:32