Tags:
Goal Zero
,
Power
,
Solar
,
wireless
I've been happily using my Sherpa 50 since late April of this year. I went for the full kit, including the Goal Zero Laptop Charging Kit, the Sherpa Extreme Inverter and a great, custom Goal Zero Sherpa 50 Pouch from the team at Blue Ridge Overland Gear (great guys, I highly recommend visiting their site and picking up some of their quality products).
The Sherpa 50 gets used to both power my Apple 11″ MacBook Air, my personal Dell E6520 and my work Dell E6420 laptops. I also use it to charge my two phones and my iPad (thanks Varonis!). The Sherpa 50 is a great little device, despite some very minor design flaws.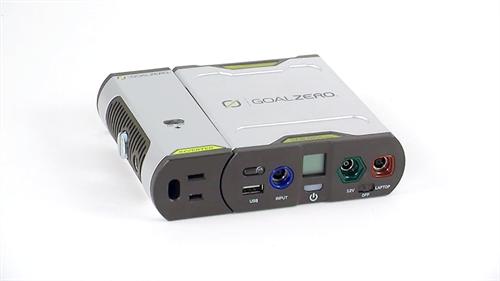 What I don't yet have (but it's on my Amazon Wish List!) is a good solar panel to pair with the Sherpa 50 to keep it charged up while on the road.
My current home, an older house on the beach, lacks a lot of in-wall power outlets. The outlets that are there, are spaced very far apart, roughly 1 outlet per room, so running multi-plug wall adapters, extension cords and power strips is the norm.
Then it occurred to me: Why not just use the Sherpa 50 in some of the rooms, where there are no convenient outlets, and where I don't need a lot of power, but I do need some AC there.
First use case was my cat Monk's metal, circulating, filtered water dish from Pioneer Pet.
As I type this post, I've had the water dish plugged into my Sherpa 50 for the last 6 hours, and it's only brought the battery level down 40%, with 60% remaining on the meter. At this rate, I could easily run the dish for 12+ hours a day, and charge the Sherpa 50 up during the remaining 12 hours. He doesn't need his water circulating 24×7, and this might just be enough.
Why not just use a plain bowl of water? Because those are prone to serious bacterial growth, and I've already spent hundreds on vet bills ridding my cat of "feline acne" as a result of having a standing water, plastic dish.
It's an interesting idea, and one I may start looking into, to see how easily I can convert some of the devices I use now, like Monk's water dish, to an all-Sherpa-powered device instead. The goal isn't necessarily to save the money I spend on power each month to drive the dish, but to be able to put the dish anywhere in the house where there isn't a convenient outlet.
I'm going to keep playing with this idea for a bit, and I'll post another update when I've got more to share.
Interesting times, interesting times…
(The Goal Zero team can be found on Twitter at @GoalZeroSolar. They're very responsive to tweets and helpful when you need it!)
Tags:
DSL
,
Linksys
,
router
,
wireless

Urgent telegram.                 <stop>
Regarding Linksys BEFW11S4 v4.   <stop>
Do not purchase this device.     <stop>
Major firmware and chipset bugs. <stop>
Return to vendor immediately.    <stop>

I bought this Linksys BEFW11S4 v4 router/WAP to hopefully replace some of my aging Luent wireless and network gear here on the network, and what a wonderful experience this has been. I also picked up the WSB24 signal booster for the 802.11 bits, because I wanted to go through some of these thicker walls. I'm also working out a plan for a Monster Cantenna that I'm building (Yes, that's my arm).
Apparently there isn't a single person who owns a v4 of this device who can keep a stable connection longer than 30 minutes. v1-v3 work fine, but v4 is a horrible mess of broken chipsets and firmware. Read here and here for the hundreds of users who have reported this issue. Linksys is curiously silent, and their technical support continues to blame MTU settings, Windows (even though I'm on Linux and FreeBSD), the cable modem, DSL providers, and the direction of the wind blowing.
I'm pretty close to giving up on the device, and shipping it back to the vendor I purchased it from online. I'll barcode it off and RMA it, and let them deal with it. The Netgear MR814 is looking like a nice replacement for it.
Other News
No job yet.
Looking for a house.
Lots of new woodworking projects.