Archive for April, 2012
I recently installed Outlook 2011 on my MacBook and I use a BlackBerry Bold 9700 devices (two of them; work and personal) as my primary handheld/phone device, and also my main data device.
I searched around and found lots of hacks, tweaks and scripts that attempted to try to get the two sides to talk together, including lots of backup, export, import, use Google, etc. solutions.
All hacks. All worthless.
Since Apple no longer supports iSync in OS X 10.7 (Lion), and iSync does not recognize a BlackBerry device, that option was out too.
I like clean solution, not hacks and workarounds, so I kept searching and came across a tool called "PocketMac for BlackBerry"…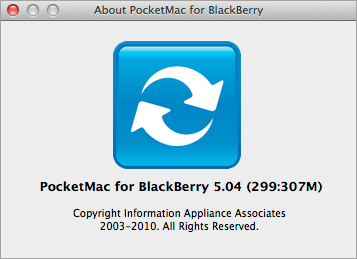 Read the rest of this entry »