Tuesday, January 26th, 2010 at 11:10 pm
|
80,976 views | trackback url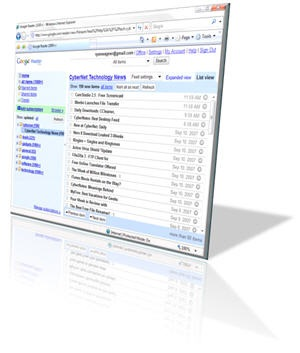 I don't use RSS feeds inside Microsoft Outlook 2007 at all, although it's an enabled feature by default. I only use Outlook for work, and while connected to the VPN, there is no way to get to the feeds anyway.
If I want to read RSS feeds, I'll use Google Reader or similar tools. I've written a tool that takes any RSS, Atom or XML feed and converts it to HTML for use on a PDA, so I'm pretty used to digesting them.
But the "RSS Feeds" folder in Outlook is a nuisance if you don't use it, and I just don't even want it showing up in my folder list; it's clutter in the interface that I don't want in my way.
I searched and searched for ways to get rid of it, and it seems like nobody had the real answer. Everything I found was hacky or unworkable. There's a lot of "You can't delete it, just ignore it." posts around, but that's because people give up too easy and very few people are as stubborn as me.
So I figured it out, and my method is nice and clean. Here are the steps to do it (with step-by-step screenshots along the way):
Open Outlook and right-click on your "RSS Feeds" folder. You should see that "Delete RSS Feeds" is grayed out. This is completely normal, but not ideal. We're going to fix this:

Download the 2007 Office system Administrative Template files from Microsoft. This is an MMC add-in, and we have to add it as a snap-in. Save the file to somewhere on your system. It will be called AdminTemplates.exe by default unless you rename it.
When you run AdminTemplates.exe, it will ask you where you want to extract the templates. Pick somewhere on your system that you'll remember. Since these were Office 2007 templates, I decided to put them in C:\Program Files\Microsoft Office\Admin Templates, as shown here:

Run MMC, by clicking on Start -> Run and typing "mmc.exe". You'll see a plain console window appear.
Click on File -> Add/Remove Snap-in and another dialog will appear. Click "Add..." on the bottom of this dialog:

In the list of Standalone Snap-ins that show up, you'll want to scroll down and select "Group Policy Object Editor", and click "Add":

A dialog box will pop up. The default Group Policy Object shown in this dialog should be "Local Computer". Click "Finish" here to accept the defaults. Click "Close" to close the previous dialog and then "Ok" to accept the addition of the new Snap-in. What you have when you're done, should look like this:

Expand "User Configuration" until you see "Administrative Templates". Right-click on this and select "Add/Remove Templates". That should look like this:

When you select this, a dialog will pop up. At the bottom, you'll want to click on "Add" here, and browse to the location where you extracted the Administrative Template Files that you downloaded in step 1 above. You're specifically looking for the ADM/en-us/outlk12.adm file found in this location. Substitute 'en-us' for the language of your choice, if you're not running an English/US version of Outlook 2007:

Choose outlk12.adm and click on "Open" to select it. Click "Close" on the previous dialog to confirm that choice. When you do, you should now see a new "Microsoft Office Outlook 2007" option under the "Administrative Templates" item.
Expand this option until you see a "Tools | Account Settings" option and inside there an "RSS Feeds" option. Expanding that, should look like this:

The option you want to toggle is right in the middle of the list on the right side. Double click on "Turn off RSS Feature" and select "Enable" from the list. All of the other options should say "Not Configured" when you're done. Click "Ok" to confirm and close that dialog.

Now if you close Outlook and re-launch it, and right-click on the "RSS Feeds" folder, you should be able to delete it, as seen here:

The best part about this approach is that you can delete the "RSS Feeds" folder, then return to the MMC, set "Turn off RSS Feature" to "Not configured" again, setting everything back to the way it was, and the RSS Feeds folder will still remain gone. Outlook will not add it back.
Clean, clean, clean… and did not require any odd hacks to the registry or any other non-standard tweaks that would be hard to reproduce on another system.
Last Modified: Sunday, March 6th, 2016 @ 02:52