Saturday, October 11th, 2008 at 11:23 pm
|
28,780 views | trackback url
In my last post, I mentioned that "Tsai" from my local sushi restaurant tried to encourage me to join his "network" to help him push and sell a drink called "Mona Vie", based on the Açaí (pronounced "assa-yee") berry extract, which has been claimed to be rich in anti-oxidants and other nutrients.
His strong-arm approach and insults completely ruined a long friendship we've had. I will not be patronizing his business for a very long time, if at all. This MLM cost "Tsai" a valued friend and long-time customer to his brick and mortar business.
Now let's get into the details about Mona Vie… where I will link to specific resources to back up my references and statements below. I did my research on this company and their methods, product and tactics. I would never jump feet-first into a business venture without doing my due diligence, and this one is no different.
(Editor's note: If you don't care to read the rest of this blog entry, read the review by Dr. Andrew Weil, M.D. where he gives MonaVie and their dubious claims a strong thumbs-down.)
---
First and foremost, "Mona Vie" (or "MonaVie" as it is sometimes called) is yet another MLM or "relationship networking" business model. Amway (now known as "Quixtar") is the most-famous MLM business model to-date, and there have been literally thousands of them over the years. Here are a few you might recognize: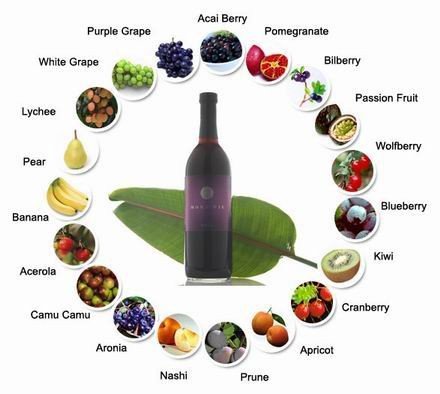 | | |
| --- | --- |
| Company | Stock Symbol |
| Advantage Marketing Systems | AMM |
| Akani.com (USAsurance) | UASG |
| Amway Asia Pacific. Ltd. | AAP |
| Amway Japan, Ltd. | AJL |
| Avon Products | AVP |
| BeautiControl Cosmetics | BUTI |
| Changes International (Twinlab Corporation) | TWLB |
| Dynamic Essentials (Narure's Bounty) | NBTY |
| Herbalife | HERB A |
| HMI Industries (formerly Healthmore) | HMII |
| Kaire International (Natural Health Trends Corp.) | NHTC |
| Mannatech | MTEX |
| Market America | MARK |
| Nature's Sunshine Products | NATR |
| NSA International | NSAI |
| Nu Skin Enterprises, Inc. | NUS |
| Nutrition For Life International, Inc. | NFLI |
| Reliv International | RELV |
| Rexall Showcase International | RXSD |
| Royal Bodycare (Globenet International) | Globenet |
| Usana, Inc. | USNA |
Many of the stock symbols above have been de-listed and are no longer valid.
The whole premise of these MLM "relationship networking" systems is that you need to build up your "network" of people beneath you in order to recoup a percentage of their eventual sales downstream from you. You find two people, who in turn find two more people and so on.
Relationship networking is the art of meeting people and taking advantage of those relationships. Often the benefit of these relationship is to obtain information and leads to further grow your business. Successful relationship networking is all about building those relationships and maintaining long lasting connections with other professionals.
The MonaVie business model (and MLM in general) is somewhat similar to a "Pyramid Scheme" where you're charged a membership fee which is then used to pool the funds and pay everyone above you. The more people you build "beneath" you (base of the pyramid), the more money the people at the top make from the "membership fees" of those below.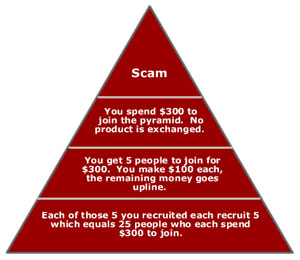 But MonaVie is not a Pyramid Scheme, it is arguably a valid business model, with questionable tactics to reinforce its business practices. With subtle changes by each of the "Distributors" in the system, they could easily morph this into a pyramid or Ponzi scheme.
MonaVie was created by "Dallin Larsen" who claims to have a 17-year history of direct-sell networking experience. If you look him up in Google, you'll see several companies he's created or been involved with that he has augered into the ground (Usana Health Sciences, VU1 Corp being the top two). Now he is the Chairman and CEO of "Monarch Health Sciences".
Instead of just creating a product with the açaí berry, Dallin and his team of scientists identified 19 fruits that were included in the MonaVie product drink (see image above). Since that time, the product has evolved into the "MonaVie Active Formula Drink".
Like all typical multi level marketing systems your guess is a correct about it's selling propositions. You are normally encouraged to become Independent Distributors if you purchase MonaVie's products. You profit by bringing in more distributors and get a percentage of every sale made by your downline.
You continue to work within the context of a "network marketing" based system where "leveraging upon others" is the common mantra and work ethic. The process centers around bringing in a network of people to consume and/or sell MonaVie juices to others; they sell to their friends, and their friends sell to their friends and so on.
The Cost
The first stinging point is the cost of MonaVie; a hefty $30-$45/bottle for 25oz of their engineered juice, depending on whether you get it at wholesale/distributor prices or retail prices. This means a one month supply is about $180 ($5/day or $2,160/year). They claim that you should be consuming 3oz-4oz of the juice every day (2oz in the morning and 1oz at night). This number is advertised (in their literature) to be the right amount to maintain healthy living and the right concentration of anti-oxidants.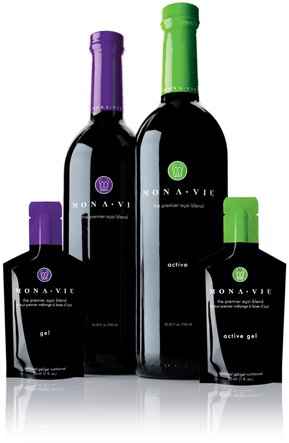 The reality is that this 3oz-4oz number is designed exclusively so they can get you to consume 4 bottles a month of their juice, ensuring a solid profit stream. There is absolutely no science behind the juice concentration (which they intentionally do not publish), and nothing stating that 2oz isn';t enough and 5oz is too much.
They intentionally made the bottle look like a wine bottle so they could justify the price. If they put the same juice in a plastic "sports" bottle, nobody would pay the price they ask for it. The reality is that it costs MORE than a bottle of wine.
There are plenty of other juices on the market that include açaí in them. V8 even has their V8 V-Fusion Açaí Berry juice which is 32oz and costs 1/3 what the MonaVie juice costs ($0.15/oz vs. $1.60/oz).
MonaVie is missing a huge market of sports enthusiasts IMHO, by making their juice in a glass wine bottle looking container. If they put it into "kid-friendly" or sports-friendly bottle, they might be able to push even more of this snake-oil to their distributors/customers.
The Business Model
According to the actual printed marketing material from MonaVie, the 8 primary ways that you make money are:
Direct sales: You are expected to purchase 3-12 cases of the juice at wholesale, and sell at a retail price for about a 15% markup, but given the cost of the bottles, if you have some regular customers you can make a bit of money this way.
Bulk order bonus: If you have at least 200 PV (Product Volume), each time someone you've sponsored orders a bulk order you get paid. Good deal.
First Order Bonus: Qualified Distributors with at least 200 PV earn a one-time bonus for bringing new distributors under you.
Star Maker Bonus: for Qualified Distributors with at least 200 PV, each time someone you sponsor makes the rank of "star" you earn $40. Again, money for recruiting, not selling juice.
Team Commissions: This next part is written in ALL CAPS in their marketing material:

"TEAM COMMISSIONS ARE THE FUNDAMENTAL BUILDING BLOCK OF THE MONAVIE COMPENSATION PLAN"

"The team commissions portion of our plan is binary. Binary means that you will be placed in one of two legs (right or left) in your sponsor's organization. You will then be compensated based on successfully building two legs of your own. Your sponsor (or anyone else in your upline) may also place poeple in your organization. As your group begins to grow, you are entitled to team commissions based on the total volume generated in your lesser leg."

Executive Check Match: If you reach this level, and have earned enough to build something called a "Personal" tree, which is different from the "binary tree". It takes a LOT of work to get to this level. There is a lot of complicated detail inside the "Executive Check Match" ranking.
Leadership Pools: They have reserved 1% of total company GV for the elite group of Monavie Blue Diamonds. You basically split 1% of the gross profits from MonaVie across all executives at this level. Without an earnings disclosure, you never know if you're really getting the true 1% you're promised.
Multiple Business Centers: This is a point at which you are making lots of money. But like any pyramid scheme, does anyone other than the original company founders make it to this level? Not likely.
Here are 4 other important considerations I found while digging around on the Internet for the details of MonaVie:
MonaVie is not purchasing their Açaí berries from Sambazon (purported to be the source of the best berries)
The drink is not made up of 100% freeze dried Açaí. They use an undocumented blend of Açaí puree and freeze-dried Açaí
Independent distributors can abuse the system and try to recruit endless representatives
There are reports of people becoming very sick from the juice which can carry parasites that were present in the original berry material.
Most people get burned by #3 because it really isn't that easy to recruit people who can work the same system to your liking. Once you exhaust (and burn) your friends and family, you're stuck with adding strangers to your "weaker leg". If your downline distributors aren't as passionate or energetic in recruiting as you are, your own profits will suffer, and there's nothing you can do to fix that, other than add more people to your downline. It's an endless and vicious cycle.
Before you jump onto any of these MLM "business models", make sure you check out MLM Watch to learn more about these techniques and how they're used and abused.
In other words, avoid doing any sort of business with MonaVie or their Distributors, channel partners, executives and affiliates. Like "Tsai" said (in his own insulting way):
"The system isn't designed for smart people."
He's right, because if you were smart, you'd find all of the obvious loopholes and deceit in the system and avoid throwing your own good money away at supporting it.
Quoting Dr. Andrew Weil, M.D.:
MonaVie is an expensive way to get your antioxidants – it sells for about $40 for a 25.3 ounce bottle. That works out to $4 to $6 per day if you use it as directed. While it is probably safe, I recommend sticking closer to home for your protective phytonutrients. Opt for organically grown blueberries, which are more available, much less expensive, and give you fiber as well as plenty of antioxidant activity. And don't forget black raspberries and pomegranates, both of which have health benefits for which there is good scientific evidence."
Last Modified: Sunday, March 6th, 2016 @ 01:04