Tags:
backpack
,
commuting
,
productivity
I've been on the prowl for a better bag to carry my gear and files to my new job in Manhattan. I currently am using a real leather bag made by US Luggage. The model is the U.S. Luggage Wide-Body Computer Briefcase and it is hands-down the best computer bag I've ever used.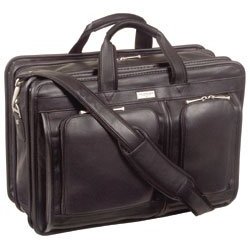 The problem is the weight, and that it only has a shoulder strap, not backpack straps.
It has pockets perfectly built for everything you could possibly need (the photos on Amazon don't do it justice). The front pockets have "sag" guides, so when they're fully opened, stuff doesn't just come spilling out. There is so much room in the bag that I've even had trouble filling it fully. It's deceptively large.
When I put in my two laptops, file folders, notebook, reading material power supply, iPod, various chargers and gadgets, snacks, CD drive, laptop cable lock and so on… it's approaching 30 pounds, all sitting on one of my shoulders. Walking through the streets of New York or commuting on the subways with this bag on my shoulder is very uncomfortable.
So I've been looking for a new bag. I searched eBags, Oakley, LowePro, JanSport, NorthFace, Crumpler Bags and dozens upon dozens of other companies for the perfect bag.
My requirements aren't that extreme, but so far nothing has even come close to meeting the bill. Here's what I'm looking for:
First and foremost, it should have a comfortable strap/harness system, that leaves both of my arms free to use for whatever I need; opening doors, sliding my Metrocard and so on.
A bag that can hold two laptops comfortably, padded and protected from damage from anything else inside the bag. I have a 15.4″ Lenovo T61p and a 12″ Lenovo X61s that I carry with me.
Something that doesn't scream "COMPUTER BAG! Steal me! Expensive contents inside!". It should look like a nice, professional bag, without being overly "teen" or unnecessarily flashy.
Enough internal pockets to segregate the basic computer gear: AC power adapter, iPod, pens, phone, business cards, network cables, calculator and so on.
External pockets within quick and easy reach for snacks, drink bottles, keys and other small-but-need-to-reach-quickly kind of items. External pockets should also be safe from any potential thieves and pickpockets that are riding the subway with me.
Something that can stand on its base without help, or having to lean on something. I don't want my bag to fall over on its face or its back when I put it down.
It's pretty simple. A bag that can hold the same gear as my USL D921 bag, weighs less and that I can wear as a backpack (arms free).
There are a few companies that make a backpack-style harness with a clip mechanism that lets you convert your existing shoulder bag to a backpack, but it looks… like something I'd never want to wear in downtown Manhattan. ThinkTankPhoto makes a nice one that appears to be fairly well thought-out.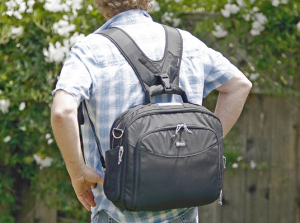 Then, there's the next notch up: hiking backpacks. The Osprey Atmos is really, REALLY nice. They have a very unique, breathable harness system that keeps the weight and the wet off of your back. Even their shoulder straps are perforated to help vent the heat off of your body. I found a good review of the Osprey Atmos that goes through a lot of its features.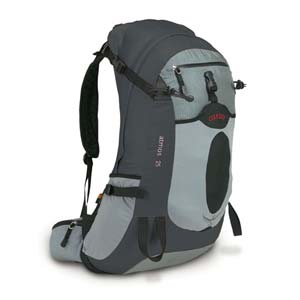 The downside to this approach is the physical size and that these bags generally have one big main compartment, designed in "stuff-sack" style. This means I'll have to keep my laptops in their own laptop sleeve or slipcase. That's not such a bad idea, because I can then take the laptop with me in any bag I choose. It increases the bulk a bit, but also makes my choices a lot more flexible.
The problem with MOST laptop slipcases, is that they don't really protect the laptop from anything more than scuffs from neighboring equipment in the bag. There's no impact protection, no bending/flexing protection. Here's what a basic sleeve looks like:
A decent padded one looks like this: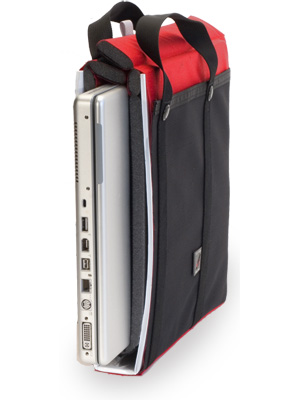 Oakley makes a really nice pack called the AP Pack 2.0, but I can't tell how large it is ON a person, or what the inside really looks like. There's no Oakley store near me that I can touch and feel this bag, so I can't be sure it'll fit my needs.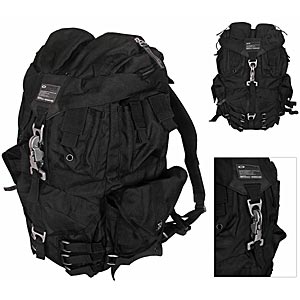 A lot of computer'esque bags seem to have the right kind of pockets, layout and configuration, but they lack a quality harness or padding or some other critical component that I would require. They all seem to fall short in some showstopper way or another.
Does nobody make a decent "Urban Commuter" pack yet? I know I'm not alone in this category. I see hundreds and hundreds of people every day on my commute carrying too much bag, not enough bag, or looking like they borrowed their high-school child's backpack for the day. It's not pretty.
For the moment, I picked up a LowePro Transit Backpack until I can find something better.