Monday, April 16th, 2012 at 7:27 pm
|
14,148 views | trackback url
I recently installed Outlook 2011 on my MacBook and I use a BlackBerry Bold 9700 devices (two of them; work and personal) as my primary handheld/phone device, and also my main data device.
I searched around and found lots of hacks, tweaks and scripts that attempted to try to get the two sides to talk together, including lots of backup, export, import, use Google, etc. solutions.
All hacks. All worthless.
Since Apple no longer supports iSync in OS X 10.7 (Lion), and iSync does not recognize a BlackBerry device, that option was out too.
I like clean solution, not hacks and workarounds, so I kept searching and came across a tool called "PocketMac for BlackBerry"…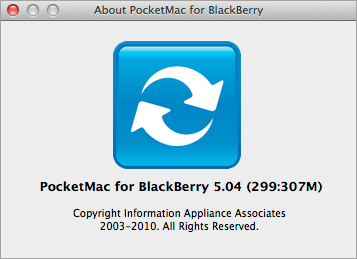 PocketMac claims to have full, two-way synchronization between Outlook 2011 and a BlackBerry handheld device:

Read that again, it comes direct from their website; they clearly state that "..this is a two-way sync", and that the Outlook 2011 data can be transferred to your BlackBerry handheld.
I tried to do precisely that, after installing PocketMac, and found that it only supports synchronizing "Contacts" with Outlook 2011, nothing more.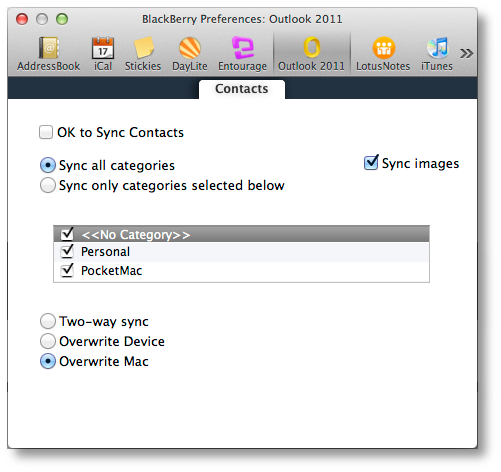 I filed a support ticket with their team and was led to this video on YouTube, to explain how to configure PocketMac to sync to Outlook 2011:
The video basically describes how to point PocketMac to:
iCal for Calendar
Stickies for Notes
Apple AddresBook for Contacts
iCal for Tasks
In a word: UNACCEPTABLE!
PocketMac also openly promotes their own product with the statement that they've been doing this for 7 years, and that RIM has directly licensed their product and uses it in their core suite.
What they don't tell you, is that there is no way to have sync conflict resolution, you either discard, or clobber. Anyone who has been doing sync of PIM data for more than a few years, knows this.
Also, installing PocketMac completely disables BlackBerry Desktop Manager, which means once you install PocketMac, you can no longer back up your BlackBerry device using BlackBerry Desktop Manager.
I immediately filed another support ticket to see if there was another way to do this using PocketMac, and their response was:
"I regret to inform you that our software does not work well with BBDM. It causes our software to malfunction and in other hand BBDM does not function with PMBB. In order to make sure PocketMac for BlackBerry works properly, Desktop Manager needs to be completely removed."
This was unacceptable, and I asked them for a full refund of my purchase price (in yet another support ticket), and still haven't heard back in almost two weeks.
Their website openly claims "..guaranteed to work or you get your money back — no questions asked."
Apparently no questions answered either.
Again, UNACCEPTABLE!
There's also a tool called "PocketMac for BlackBerry SMSViewer" that gets installed with PocketMac, except… it does absolutely nothing! It claims to view your SMS messages, and export them to Excel or a table. It does neither of these things, because it can't back up your BlackBerry device, and can't communicate with the device directly, so has no way to actually read the SMS messages to view them.
I replied to that support ticket indicating that this had to be the wrong reference, and waited two weeks before hearing back, and finally received this response:
"The only option given in PocketMac preferences if for contacts. So for the other items you need to enable iCal calendar, Stickies notes, and iCal tasks."
Fail, fail, FAIL!
I'm pretty disgusted that this level of false advertising for profit is still prevalent in our world. Have all the good software products and honest business models gone away?
PocketMac has a long, LONG way to go, before it can call itself a 1.0, even though the current version is 5.04.
It's May 2nd, almost a full 30 days since I filed the support ticket requesting help and/or a refund and I still haven't heard back, nor have I received a refund for my purchase. At this point, I cannot, in good conscience, recommend supporting this product or this company.
Stay away from this one.
Last Modified: Sunday, March 6th, 2016 @ 05:34