Wednesday, July 20th, 2005 at 2:32 pm
|
157,257 views | trackback url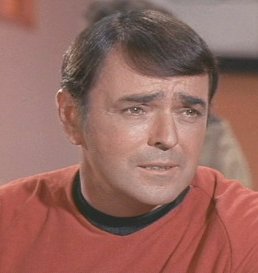 I just found out that James Doohan, aka "Scotty" from Star Trek has passed away at the ripe age of 85. Doohan died at 5:30 a.m. at his Redmond, Wash., home with his wife of 28 years, Wende, at his side, Los Angeles agent and longtime friend Steve Stevens said. The cause of death was pneumonia and Alzheimer's disease, he said.
From 1966 to 1969 he starred in the Star Trek series until NBC ordered it cancelled due to ratings problems. He also starred in the 6 Star Trek movies and several other Star Trek related appearances over the years.
James Montgomery Doohan was born March 3, 1920, in Vancouver, British Columbia, youngest of four children of William Doohan, a pharmacist, veterinarian and dentist, and his wife Sarah. As he wrote in his autobiography, "Beam Me Up, Scotty," his father was a drunk who made life miserable for his wife and children.

At 19, James escaped the turmoil at home by joining the Canadian army, becoming a lieutenant in artillery. He was among the Canadian forces that landed on Juno Beach on D-Day. "The sea was rough," he recalled. "We were more afraid of drowning than the Germans."

The Canadians crossed a minefield laid for tanks; the soldiers weren't heavy enough to detonate the bombs. At 11:30 that night, he was machine-gunned, taking six hits: one that took off his middle right finger (he managed to hide the missing finger on the screen), four in his leg and one in the chest. Fortunately the chest bullet was stopped by his silver cigarette case.
For those of you who can, or have the means.. please consider donating to the Alzheimer's Association so others can live long and prosper without suffering from a horrible disease like Alzheimers.
I'm sure I share in the feelings of millions of science fiction fans around the world when I say "Mr. Doohan, in your new journey, go as boldly as you did when you led us in all your journeys on our television sets over the years, in our hearts and in our imaginations."
You will be missed.
Last Modified: Saturday, March 5th, 2016 @ 21:01