Monday, November 12th, 2012 at 5:20 pm
|
16,551 views | trackback url
Tags:
email
,
Gmail
,
google
I have over 14 years of email stored in Google Gmail now, all sorted, organized and tagged. It's a huge archive going back through several jobs, plenty of experiences personal and professional. Some day it might make a good bit of data mining for an autobiography, but I digress..
One thing about Google Gmail has been bugging me for years! Google "folds" mail away in your Inbox, out of view, hidden, but not in any folder (what Google calls "Labels", but they're really individual IMAP folders).
There doesn't seem to be any sort of reason for this, no algorithm and no obvious method to why they decide to take email out of your Inbox and hide it away from you. A bug? A feature? Who knows, but it's annoying.
Here's an example of what this looks like:

Notice that my search for "pinbot@pinterest.com" (Pinterest's mail robot) returns several hits, but only one of which is in my "Inbox". Those others appear nowhere. They're not in any folder anywhere in my entire IMAP or Gmail heirarchy.
They're completely hidden, invisible, and only show up when you do a specific search for those terms. In other words, you can't clean that junk out, delete it, unless you search for it first. Chicken-and-Egg problem, because you can't search for what you don't know exists.
There have been hundreds and hundreds of posts trying to come up with solutions to this problem, including using the "-label:" syntax to exclude labels from the search, leaving only "unlabeled" email.
That works great, if you have a handful of labels, maybe a dozen or two, but I have hundreds of IMAP folders (erm, "labels"), and they're nested pretty deep in some cases. Trying to append all of my labels into one big long search string, does not work, because of a string limit in the search field. Fail.
So then I tried the somewhat magical "-label:*" search, but it returns mail with labels too, for some randomly odd reason. Another fail.
Then I tripped on someone who has a more elegant solution to the problem, rolled up into a Greasemonkey extension. Enter "gmailUnlabelled"!
Once you install the extension, you'll find a new "Unlabelled" link on the left side, in your labels group. Clicking that will reveal email with no labels, the "hidden" email that Gmail ferrets away from you, away from your searches, away from your folders.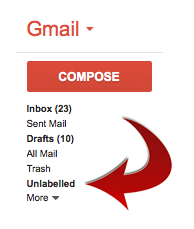 Find it, label it, or as in my case, kill it off. I have 10,543 emails in my "All Mail" folder, and I'm sure a few hundred to a few thousand are going to fall into the Unlabeled category.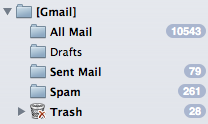 Now I can begin the process of pruning that out and cleaning out my mail even further. I hope this helps others who may be facing the same problems.
Last Modified: Sunday, March 6th, 2016 @ 05:12