Saturday, February 3rd, 2007 at 1:47 am
|
7,717 views | trackback url
Tags:
BOSE
,
headphones
,
music
Another post in a series of "De-evolving Technology Products"
I used to own a Bose QuietComfort v2 headset. I loved it when I flew back and forth across the country, even without music plugged in. It actually does make me less fatigued when I disembark from the plane after having used them for most of the flight. I don't have that draining, exhausting airplane engine noise in my head, and my ears don't have to work harder to try to cancel it out as background noise.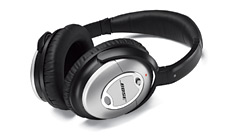 But after about 1 year of very careful use, the rubberized cups surrounding the ear pieces, started to "degrade". It was as if the rubber itself had reached its half-life, and was turning into this flakey ooze that would peel away from the headphones.
Of course, the warrantee from Bose covers every single part of the headphones, EXCEPT the primordial ooze degradation of the rubberized headphone cups. You can't purchase replacement cups either, even if you wanted to.
So after 1 year of use, your $300.00 Bose QuietComfort noise cancelling headphones are now rendered useless, garbage, and the only resort is to throw them away. They've recently updated the design of the v2 version, but it may still suffer from the same problem.
When did expensive technology become so disposable?
Looking for an upgrade, I spied the QuietComfort v3 headphones. The reviews for these are mediocre at best, but they are lighter, smaller and potentially better than v2.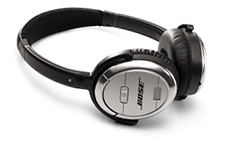 Boy is that assumption wrong! Let's go over the basic features of the v2:
QuietComfort v2 Features
Uses an external controller box
Around the ear design to help isolate incoming sounds
Very light in weight
Uses a standard pair of AAA batteries
Works without a player attached to the other end
When the batteries die, you can still use them as "normal" headphones
And now let's see why the v3 is WORSE than the v2:
Heavier, even though they're smaller
Proprietary, expensive rechargeable battery. No AAAs, and requires purchasing a proprietary international charger to keep it going if you buy a second battery (necessary for long flights)
When the battery dies, so does the music
On-the-ear design means more sounds get in, and the noise-cancelling drivers must be louderto compensate for ambient noise leaking in.
Less comfortable to wear on the ears
Noise cancelling feels "artificial" compared to the v2. Not as good as the v2.
I picked the v3 items up from a few reviews I found, including this detailed review. I can only speak for the v2 headphones that I've personally owned.
But based on the higher price, lower quality, heavier weight, proprietary battery and lack of flexibility.. I'd stick with my v2's or some other vendor's model of NC headphones.
There are plenty of other headphones that will fit the need and some at less than 1/4 the cost of the Bose. Seek them out and stay away from Bose for these two models. Perhaps the v4 or v5 will solve the problems with price and convenience, but one can never be sure.
Last Modified: Wednesday, April 6th, 2011 @ 13:20